What makes a person decide to purchase a particular product? Well, you can list a number of different reasons. It may be due to a deep desire, a passing will, a vital need or various other factors that act as motivators at the time of purchase. But what actually makes consumers recognize in a specific company the solutions they need at that time? To answer this, we need to understand another important element in the relationship between brands and people: The branding!
Profit-Making Strategies
Connecting emotionally with consumers has never been easy. The difference is that now, with an extremely competitive market, this task has become even more challenging. Relying on luck or chance is not even an option. Therefore, to gain prominence in this scenario, companies need to build a solid brand that offers real values to people and, above all, knows how to communicate their differentials efficiently. How? Through a branding strategy.
Let's do a quick imagination exercise: think of a steel sponge. Now on a razor blade. And lastly, think of a wound dressing adhesive. It is likely that the images of three specific brands that offer these products came to mind, right? These are perfect examples of how a brand can become relevant enough to lend its name to the product itself. In other words, these are perfect examples of how branding can be very effective.
In general, we can understand branding as an attitude, a stance that puts the brand in the focus of management, aligning products, services and corporate culture around a relevant message. It is the set of actions that strengthen the image of the organization in people's memory, addressing the values that the company delivers and the way it is perceived by the public.
Apple exemplifies this well. The brand is so strong that people attach to it not just for the products themselves, but for everything it delivers along with the shopping experience. Of course technological excellence and other factors also matter, but they are not decisive. This explains why customers often do not opt for competing brands even though they have better and more affordable options in the market.
Are you missing data? So check out some statistical curiosities about branding:
B2B
It is good to highlight: branding does not only benefit the relationship with consumers. The adoption of a brand project also aims to generate value for other important audiences, such as investors, shareholders, suppliers, experts, among others.
The idea is that, by investing in a branding action, a brand conveys credibility and, thus, can improve its relevance in the market, which can be crucial when closing partnerships and broaden the relationship with other companies, for example.
But how to build value through a brand?
The first step in a branding strategy is to understand the purpose of the brand, the attributes that set it apart from competitors, and what makes it generate the value it proposes. It's also important to be clear about the future, understand what the company wants to build with that value, what its goals are, and how to get there.
This is a matter of mobilizing a strategic plan and organizing the company's culture so that the differentials and the values delivered are natural (and not artificial) consequences of brand performance. In addition, it is critical to put in place a consistent communication model so that people understand the company's positioning, the benefits it offers, the quality of its products, and so on. At this point, design comes in as an essential tool.
Branding at Pande
Here at Pande, we already had the opportunity to help several brands in branding projects. One of the recent cases is Broto Legal, a company with more than 50 years in the rice and beans market, which was passing through changes in its structure after being acquired by a new economic group. It has taken on the mission of becoming one of the industry's top brands. Our challenge was to build a differentiated strategy for its products.
For this, we made a deep immersion in the reality of the company, understanding what was the essential value to be communicated. In this process, we found that Broto Legal is the only brand in the market that tests its products against the presence of pesticides – a great differential of quality and concern. Based on this, we define this attribute as the central point of the entire brand positioning strategy (see more details about this case).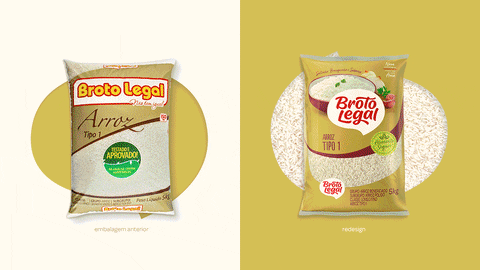 Understanding the values of a company and, especially, communicating them with the public in an efficient manner are premises to position itself competitively in the new market. For this reason, investing in branding is no longer a strategy of large organizations, but has become a fundamental attitude for brands that want to establish emotional connections with customers, gain relevance and become resistant to time and consumer change.