How can the economy of creators generate value for brands?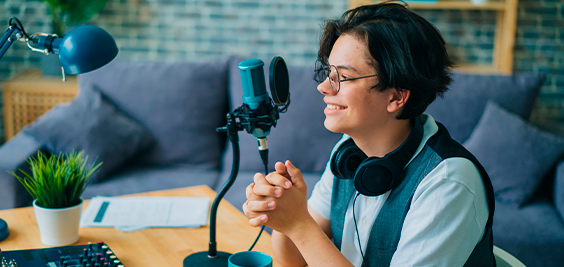 Social media, such as Instagram, Twitter, YouTube, Twitch, and TikTok have been transforming our interactions with our loved ones and with brands. Before visiting a store to check out a product, for example, we can consult an expert's opinion through videos and reviews that speak our language. Easy, right? And, as expected, with the boom of these platforms, new business opportunities emerged in the so-called creators economy.
Although this type of economy emerged only a decade ago, the investment firm SignalFire estimates that, today, there are already more than 50 million people who consider themselves creators –small entrepreneurs who use technology platforms to generate content and monetize their personal brands. And this can bring many opportunities for brands that want to rethink their models and connect with their audiences in an authentic manner. Want to know why? Check out our insights below!
What explains the boom in the creators economy?
Also known as the passion economy, the creators economy involves curators, influencers, videomakers, bloggers, youtubers and other types of professionals whose income comes from the production of independent content through ads; sponsored content; subscriptions; attendance in events; fan clubs; among other options. Data from 2021 influencer marketing agency Mediakix, estimates that the industry will be worth fifteen billion dollars by 2022.
A number of factors have driven the growth of this industry. The first was the arrival of millennials (born between 1985 and 1994) and centennials (born between 1995 and 2010) in the labor market. With technological resources at hand and greater access to education, they have been looking for dynamic jobs that bring a sense of purpose and value creation. And for many, that opportunity has been found in independent content production funded by communities of fans and/or supporters.
It is also worth considering that resources for content production have become increasingly accessible. It is no longer necessary to have the most expensive cell phone on the market to guarantee a camera with good resolution. Also, free licensing editing programs, monetization platforms, customized data packs and online forums full of tips and tutorials have been driving a lot of people's projects out there…
The content production platforms, realizing the value of these creators, have also been "pulling their strings" so that they remain active – and feeding their algorithms! According to YouTube CEO Susan Wojcicki, over the past three years, the platform has allocated more than 30 billion dollars to creators and media organizations. And in July 2020, TikTok announced a fund with over 200 million dollars for creators.
As you can see, to keep up with this class of creatives, brands need to adopt a new business mentality: more agile, collaborative, transparent and shared. They start being conceived as platforms, where multiple stakeholders generate value, putting the needs of individuals first.
"The concept of a company, as we understand it today, is no longer the one that defines an organization between four walls, to increasingly get closer to complex autonomous systems that integrate internally and externally, in layers and layers of products, services, distribution channels, business models and whatever necessary to deliver the final value desired by the participants of this ecosystem to be effectively possible", says Gian Franco Rocchiccioli, advertising executive, entrepreneur and partner at Pande, in the book "Descentralizada – Uma nova mentalidade" [Decentralized – A new mentality], which will be released soon.
What opportunities does the creators economy bring to brands?
The desire for proximity and authentic content strengthens the creators economy. For brands, this is a chance to get closer to their publics, to innovate, and to foster the work of people who make a difference.
Collaboration and dialogue with niche communities
How do you dialogue with communities that have increasingly fluid interests and that move between different environments and groups so easily? This challenge, strengthened by the arrival of centennials in the market, has led many brands to establish collaborative creative processes with niche communities. And to build that bridge, creators are an essential presence in the strategies.
Adidas is well aware of this, and for the launch of new lines of NMD and Hardcourts, in early 2020, it has created the "Creative in Process" campaign. The action involved different independent creators from New York – such as visual artist Adam Lucas and young illustrator LOLA The Illustrator – who proposed works inspired by the concept of the line. In addition to collaborating with each other, the artists also received feedback from fans via social media.
Adidas Transmission Pack – Adam Lucas from Firstborn on Vimeo.
Adidas Originals Transmission Pack Campaign from LOLA the Illustrator on Vimeo.
Creative plurality
Social media allow creators to produce content that dialogs directly with the demands of their communities. Being immersed in these environments, they know better than anyone else what topics are relevant to their audiences and how to approach them in an interesting way, with the ideal timing and terms.
The department store chain Target bet on this strategy when it created, in partnership with Pilates instructor youtuber Cassey Ho, a line of products for exercising at home. In addition to offering instagrammable elastic bands, bottles, dumbbells, mats, and socks, the line also relies on the figure of Cassey to bring greater representation to the Asian community in the fitness medium. The content producer is known for encouraging movement and valuing the beauty of all body types.
Social media have transformed our communication dynamics and, for many people, brought new creative possibilities. In the style of filmmaker Glauber Rocha – "a camera in the hand and an idea in the head" – professionals from different areas have been bringing out quality content and maintaining a close dialogue with their communities. Isn't it nice to get advice about finances or that difficult game from someone who speaks your language?
For brands, the creators economy is quite an opportunity to establish genuine connections with audiences through diverse platforms and decentralize value generation. After all, these people talk directly with their communities on different social media, establishing direct, authentic, and agile communication flows, according to the modern patterns.
Want more insights for your brand strategy? Follow Pande on Instagram, Facebook and Linkedin!